Product Description
1, Product Datas:
1.It is the most common type of Tungsten used today .easier arc starting capabilities ,more stable arc and have good performance for DC.and they contain 2%thoriated .
2.Designation:WT20
3.Dioxide:ThO2
4.Dioxide in%:1.70-2.20
5.Impurities%:≤ 0.20
6.Tungsten:the rest
7.Color mark:Red
8.Diameter: 1.0mm--10.0mm
0.040" (1.0mm), 1/16" (1.6mm), 3/32" (2.4mm), 1/8" (3.2mm) and 5/32" (4.0mm)
9. Length: 6'' (150mm), 7''(175mm & 178mm)
10.High quality with the favorable price
1.Diameter Range:1.0-12.0mm
2.Length:75mm,150mm,175mm,178mm
3.Quality of surface :Ground finish and Polish finish
Thoriated Tungsten Electrode WT20 10- Pack
WT10 Thoriated Tungsten Electrode
WT20 Thoriated Tungsten Electrode
WT30 Thoriated Tungsten Electrode
WT40 Thoriated Tungsten Electrode
We can supply all kinds of tungsten electrode ,such as WT20, WP , WL15 WL20, WC 20, WZr8 .
We can malke different kinds of diameter and length tungsten electrodes according to clients requirement.
Welcome to your inquiry, we will quote you best price.
2, Products Details:
3,Product and Packaging details: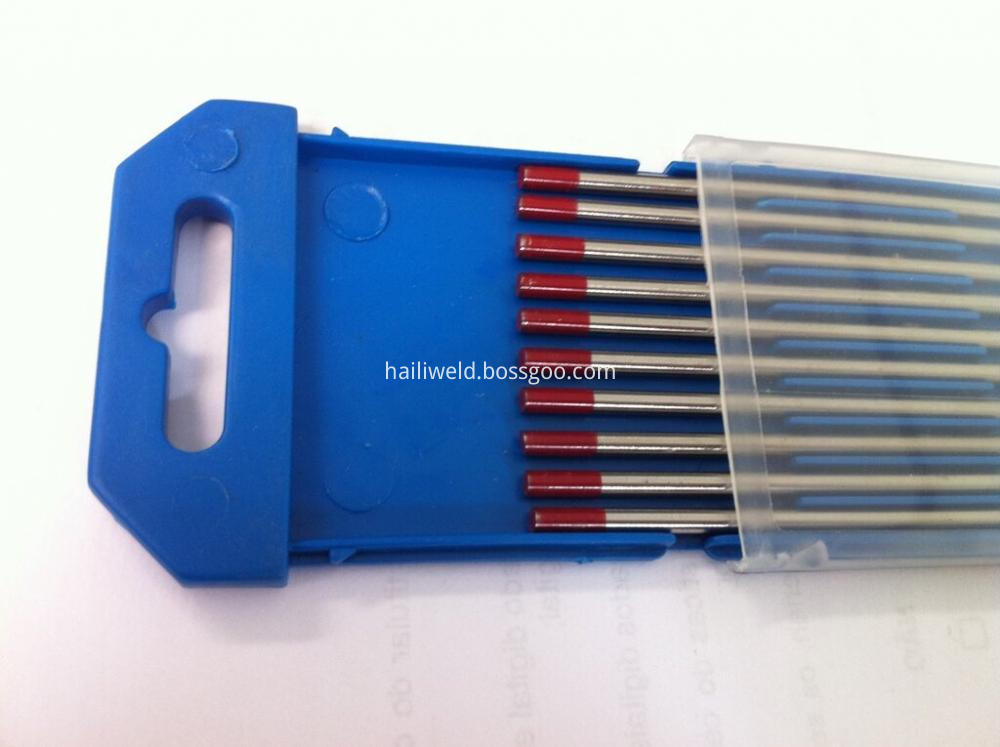 4, Shaodong Lida Tools Co.,Ltd can produces :
1.MIG/MAG,CO2 welding torch and accessories :
Binzel 14AK, 15AK,24KD,36KD,501D, Pana 180A, 200A,350A,500A, Bernard 200E,Bernard 300E Bernard 400E,Bernard 600E,Tweco 2#,Tweco 3#,Tweco 4#,Tweco5#,Fronius AW4000,AW5000,AL3000, AL4000,Saf welding torch and gas nozzle,contact tip,contact tip holder,swan neck,gas diffuser liner etc.
2.Tig welding torch and accessories : WP12,WP9,WP17,WP18,WP26 welding torches and torch head (F/FV/V/P) ,collet,collet body,gas lens,ceramic nozzle,aluminal nozzle,long/medium/short cap etc.
3.Air plasma cutting torch and accessories :P80,P160,PT31,AG60,SG55,JG60,JG100,Trafimet serise cutting torches, torch head ,nozzle,electrodes,tips,ceramic shield cap,,white wheel,swirl ring etc.
4.cable joint ,earth clamp,welding cable
5.welding helmet,electorde holder
6.tungsten electrode
5, Company introdcution:
Shaodong Lida Tools Co.,Ltd is one of professional supplier of welding and cutting equipment and accessories in China since 2000.

The company specialize in manufacturing MIG,TIG,PLASMA, Welding torch and spare parts. The annual output of welding torch exceed 200,000 sets. We have obtained CE European safety certificate. Our main customers come from Southeast Asia, Middle&South&West Euro, Latin American market.

With international advanced technology, popular products design, integrating modern management, excellent quality, competitive price, and favorable sale and after-sales service. Our clients come from over 50 countries and regions around the world.

We expect you could become our new client as soon as possible. You will surely be satisfied with us. If you are interested in any of our products, please feel free to contact us for more details.